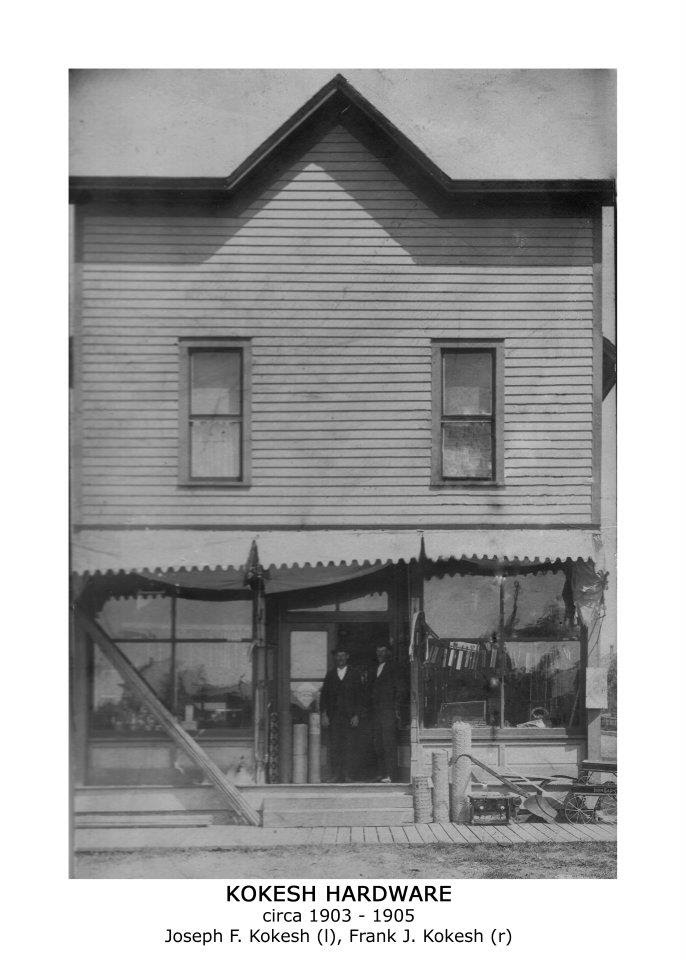 The Story Behind Us: 117 Years Ago, Kokesh Hardware was founded. The store opened in 1903 by Kokesh brothers.
In 1905 one of the brothers bought out the other brother and renamed it to F.J. Kokesh Hardware. In 1928 one of the son's got involved and renamed it back to Kokesh Hardware … until 1957 when it became Kokesh Athletic, but we'll get to that…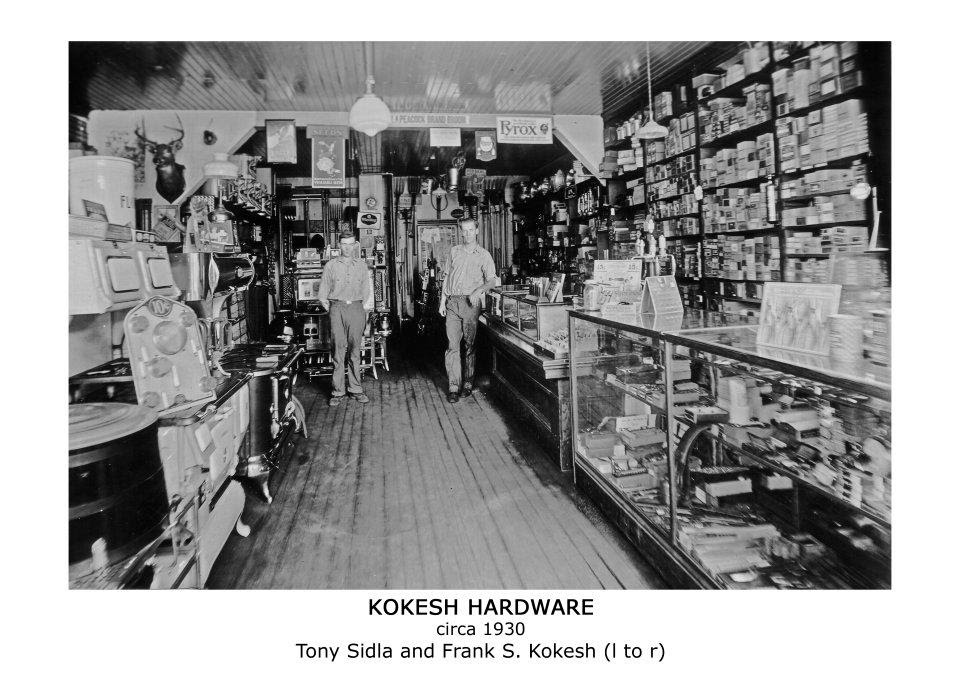 The infamous story of how Kokesh's and Kraemer's (Kraemer's True Value, Which was Kraemer's General store founded in 1909) are related leaves most people confused. Kraemer sisters (Rose & Margaret) married Kokesh cousins. (Frank & Bill)
Fast forward to 1950's when Kokesh Hardware moved into a new building. To make it possible to move into a new building without having to move the inventory out, they just moved the building right on to 10th Ave N in Hopkins. (Picture seen at Gopher Ace in Long Lake, MN). – With more space they offered sporting goods. Some of the fixtures for Kokesh Hardware actually came from the remodeling of Kraemer's store in Glen Lake.
In 1950's, my father Paul Kokesh left Kraemer's in Glen Lake and started working at Kokesh Hardware. About 1957 Kokesh Hardware closed and became Kokesh Athletic & Golf Supply. – Since it was strictly sporting goods, the remaining hardware inventory went to Kraemer's in Glen Lake! Kokesh Athletic closed in 1993 and Paul started Metro Athletic Supply. He never really was a retail kind of guy, so he sold wholesale team athletic supplies and uniforms to athletic teams such as the Vikings and to local area schools and park and rec's. After 55 years of being in the sporting goods business, he sold his business to Universal Athletic in 2013.
Kraemer's General Store became a True Value in the 60's. Paul's Brother John Kokesh was an owner of Kraemer's, along with his uncles Carl Kraemer & John Kraemer. The Kraemer family was no stranger to business as Paul Kraemer was President of Minnegasco, known now as CenterPoint Energy. Kramer's True Value opened their second store in the Wayzata Bay Center in 1988. I, Michael Kokesh, started working at the Wayzata location in 1989, although I really started doing price changes with my Grandmother, Margaret (Kraemer) Kokesh at the Glen Lake store in 1979 at the age of 4!
In 1997, as Store Manager of the Wayzata Kraemer's True Value I conducted a whole store remodel with good friend Mark Schaefer (the only non related person in this saga!). Mark Schaefer and I grew up just a mile or so apart. We joke today that he truly was "on the other side of the tracks". Our grade school classes were so small that they combined some of our sport teams. Which is how we became friends in the mid 1980's. We in turn would attend Benilde. St. Margaret's High School together, then off to college at the University of St. Thomas together where we ended up as roomates for a few years as well. While I'm the only child and Mark has a sister, he has been like a brother for many years. Mark stayed with Kraemer's until 2010 after I left in 2000.
In 2008 we learned that Kraemer's intended to close the Wayzata store due to development of the retail site. Mark and I then pursued looking for locations to open a store. While Wayzata was always of interest, high rent prices and limited spacing drew us to Long Lake, a community hungry for a hardware store and a location which has proven itself to be convenient and effective. In the winter of 2010, Mark and I opened the doors to our first customer on March 14th 2011 as Long Lake True Value. Both of us knew how True Value operated, so it was an easy transition from working and managing a store to becoming store owners.
In April of 2018, True Value sold 70% of its shares to ACON, an investment company, putting an end to the cooperative (member owned) company as we knew it. Many things would quickly change and forced Mark and I to ask where we see ourselves now and in the future. As such, we did our due diligence and looked into other hardware distributors. In September 2018, Mark and I made the official decision to convert our store from a True Value to Ace Hardware, the largest hardware cooperative in the world.
Offering expanded product line, greater availability to products, lower pricing, world brand recognition and retail support, we knew that we needed to cease our relationship with True Value and begin a new adventure with Ace.
Bitter sweet this decision would be, as for 40 years I've known and been involved with True Value. However, now is the time to move our business on to better and greater things.
Why Gopher Ace? After 30 minutes of throwing out names, all to find we were circling around a Minnesota theme, Mark suggested the word Gopher being that we are in the "Gopher State". As such a hand drawn Gopher emerged as our store mascot to compliment our name.
In February 2019 we started the physical conversion of our store and completed in just one month. In the fall of 2019 we were presented with an opportunity for opening a second location in Minnetonka, located in the Ridgedale South shopping center adjacent from the Ridgedale Mall.
After months of studies, we made the decision to service an area that needed a hardware store, and as such will be opening our second location in April 2020!
So that's the short end of the story for the past 117 years in just a few paragraphs. Family has changed, business names have changed, but rest assured, our passion and love for providing quality customer service has not stopped. We look forward to serving you for many generations to come where Gopher Ace is the place of the helpful hardware folks.
Respectfully,
Mike Kokesh & Mark Schaefer